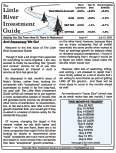 What is The Little River Investment Guide?
The Little River Investment Guide is our new "growth and income" newsletter that is being launched in response to requests from some of our long-time Nate's Notes subscribers who have made a lot of money off of our ideas over the years and want to start shifting that money into a somewhat more conservative portfolio as they enter their retirement years.
Like Nate's Notes, The Little River Investment Guide is published monthly and also takes a long-term approach to stock selection; however, given that dividends and associated yields will vary as time goes by and stock prices fluctuate, the companies being recommended will likely move in and out of The Little River Investment Guide a bit more regularly than they do in Nate's Notes.
In addition, unlike Nate's Notes, which has tracked its performance over the years using two different "hypothetical" portfolios, The Little River Investment Guide puts its money where its mouth is by executing all trade recommendations in a real-life brokerage account.
This account was initially funded with $10,000, though many of our subscribers are following our ideas in significantly larger accounts by simply "scaling up" their trades by an appropriate multiple (i.e. if they have devoted $50,000 to their "Little River portfolio," they are buying five times as many shares as we do when following our recommendations).
The regular subscription rate for one year (12 issues) of The Little River Investment Guide is $179, but to help celebrate the launch of this new service, you can currently sign up at the special reduced rate of $149 (click the link to start the process)!