Option trading can provide a great opportunity for investors to maximize their profits in the stock market—but only if they have the right information and strategies at their command.  That's what you gain access to when you subscribe to The Wagmore Advisory Letter, a long-term investment newsletter that, since its launch in August 2013, has provided expert advice on covered call strategies for reducing the risks involved with investing in the stock market.
However, for all the educated counsel that we provide, we can't interact directly with the market on your behalf – that's where a brokerage firm comes in.  It is probably safe to say that anyone whose investment journey has brought them to this website already has a reasonably firm grasp of brokerage firms and their various services.  What you may not be certain about, however, is which firm to trust with your time and money.  To be sure, there is no shortage of online brokers in the world today… so which broker is best for you?
Unfortunately, as publishers of several stock market newsletters, we are in the business of recommending great investment ideas for our subscribers rather than recommending online brokers; having said that, we recognize that our clients are often looking for information to help them get started on the path towards taking control of the their financial destiny, and, with that in mind, we have put together this short report that looks at some of the more well-known online brokers that can be used for option trading.
However, before we begin, we want to remind you that nothing here should be taken as an endorsement of the brokers listed on this page since, as mentioned above, that's not our area of expertise!  These brokers are simply listed alphabetically, not in order of merit, and those discussed below are not necessarily superior to others that may not be listed. The purpose of this list is simply to acquaint you with a few of the higher-profile brokerage firms out there.  A final caveat: This information is as accurate as we could manage, but prices and other important data can change at any time, so please do your own research before committing yourself to any particular online broker, whether they're listed here or not. Having said that, let's take a closer look at some online brokers that may be of interest to you.
Charles Schwab
Established in 1971, Charles Schwab is among the online brokers out there that enable their customers to execute option trades. At present, their commissions for option trades run as follows: online trades charge $8.95 + $0.75 per contract; automated phone trades come with a $5 service charge; and broker-assisted trades have a $25 service charge. Schwab also provides a number of online features to aid the aspiring options trader; these include the Trade Assessor and Option Builder® tool. Another notable feature is optionsXpress, which provides an "all on one" platform with a variety of supplemental tools, including access to real live trading specialists.
E*TRADE
Founded in 1982, E*TRADE Financial Corporation also offers options services through its website. The basic options commission over here is $9.99, plus $0.75/options contract, but the fee schedule comes with a number of nuances and variations. With 150 or more trades in a quarter, the price drops to $7.99, plus $0.75. The fee for options exercise and assignments is $19.99. The site also includes mobile trading support that enables customers to place their trades on the run, if need be. Clients also have access to a variety of support tools, such as an Options Screener and Probability Calculator.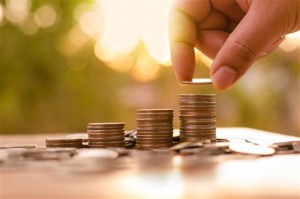 Fidelity Investments
Fidelity's basic fee for option trades is currently $7.95 per trade, plus $0.75 per contract. The company also touts no commission fees on buy-to-close orders executed at $0.10 or under. In addition, its website includes a generous selection of informational videos and webinars (labeled Beginner, Intermediate, or Advanced) about topics relating to options trading. Finally, it's worth pointing out that Fidelity requires a minimum of $2500 to open a brokerage account with them.
OptionsHouse
OptionsHouse charges no maintenance fees and requires no minimum balance to maintain an account in good standing. Base option fees are $4.95, plus $0.50 per contract. The OptionsHouse trading platform provided to customers features the tradeCYCLE tool, which includes the company's proprietary Exit Plan (for determining exit points for trades) and the liveACTION scanner (for real-time exploration of streaming quotes and other market activity).
Scottrade
With over 500 branch offices across the nation, Scottrade is another potential pit stop of the options trader. Online option trades are priced at $7, plus $1.25/contract; broker-assisted and touchtone-phone trades go for $32, plus $1.25/contract. Option exercises and assignments are set at $17. Scottrade also permits its customers to buy and sell "mini stock options" through a limited number of securities; the commission schedule for these is identical to the basic options schedule. Active traders can take advantage of the ScottradeELITE trading platform; it's available to those customers with an account balance of $25,000 or more. Scottrade requires a minimum initial deposit of $2500.
TD Ameritrade
At TD Ameritrade, online option trades are priced at $9.99 + $0.75 fee per contract. Moreover, using the IVR phone system for trades incurs a charge of $34.99 + $0.75 fee per contract; broker-assisted option trades are priced at $44.99 + $0.75 fee/contract; and option exercises and assignments are at $19.99. The firm also offers several online tools to enhance the trading experience for its customers, including the "thinkorswim" platform and the TD Ameritrade Mobile Trader App for the on-the-go investor. For those concerned about such things, it may be worth noting that TD Ameritrade is an official sponsor of the National Football League (NFL).
TradeKing
A relative newcomer on the scene, having started in 2005, TradeKing is yet another brokerage firm that handles options trades. Option trades are priced at $4.95 plus $0.65/contract. The option exercise fee stands at $9.95; option assignments are priced at $4.95. Furthermore, there are no commission fees on buy-to-close orders for short options of $0.05 or under. TradeKing will levy an annual $50 Inactivity Charge if the account is dormant for 12 months and the combined value of all household accounts falls below $2500.
If you found this article informational, please SIGN-UP for our monthly investment newsletters!
Sources
http://www.schwab.com/public/schwab/investing/pricing_services/fees_minimums
https://us.etrade.com/investing-trading/investment-choices/options
https://www.fidelity.com/options-trading/overview
https://www.optionshouse.com/rates/
https://www.scottrade.com/investment-products/options-trading.html
https://www.tdameritrade.com/investment-products/options-trading.page
https://www.tradeking.com/rates/fees